I have always been a fan of novelty brooches, and my collection keeps growing! They are great for putting the finishing touch to an outfit, or even as inspiration to base your outfit around. There are so many wonderful and quirky designs out there, so I've put together this post to introduce you to my favourite places to buy from.
1. Deer Arrow
Deer Arrow is run by two sisters from Brisbane, Australia. They make gorgeous hand-painted wooden brooches and cardigan clips, and have just released some acrylic designs that are selling fast! If you love pastels, tea, and ice cream then check them out!
Noleen is a lovely lady from Northern Ireland who makes the sweetest little bunny brooches! She can make them in any bright and beautiful colours you choose, and can even add a necklace and tutu to your bunny to make it even cuter. Check out her Facebook page and Instagram for her designs, and look out for her Etsy store coming soon!
3. Atomic Mingo
Pinup Miss Lixxie Lou creates lovingly handpainted wooden brooches in Perth, Australia. Her designs are vintage-inspired, with many pop culture nods to our favourite movies like Grease, Dirty Dancing, Cry Baby, and Edward Scissorhands. She even numbers her brooches individually so you know which one you have! (I am Frenchie #58 and I Carried a Watermelon #6) Follow Atomic Mingo on Instagram for countdowns of brooch releases so you don't miss out on your favourite!
4. Erstwilder
This list could not be complete without Erstwilder, who create limited edition layered resin brooches, necklaces, earrings, cardigan clips, and even a hair comb! Their new range has just been released to a fanfare and includes the gorgeous new beauty school collection. There are so many colourways and designs to choose from, and I particularly enjoy their flora and fauna designs inspired by their native Australia. You can't buy directly through their website but there are plenty of places around the world that you can order from (Vintage Pip is my favourite), and follow their Instagram for updates!
Heidi and Gretel brooches are hand-drawn, hand-designed, and hand-painted by Donna in Melbourne. What makes them extra special is that all proceeds go directly to helping Donna's brother Scotty to fund his transport costs. Heidi and Gretel designs are cute and quirky, and frequently now come in jumbo sizes – the perfect size for a statement brooch! You can currently pre-order the amazing Audrey II brooch (pictured above) via Etsy, or wait patiently for the grand re-opening sale on the 31st of August where many goodies await!
Rock 'N' Bowley brooches (and hairclips, rings and earrings) are handmade, 50s inspired gems crafted by Georgie in the UK. Think unicorns, ice cream, sparkles, and fun colours! Rock 'N' Bowley is currently on holidays, but there are still a few items available for purchase over on Instagram, and there will be plenty more new items available towards the end of the year.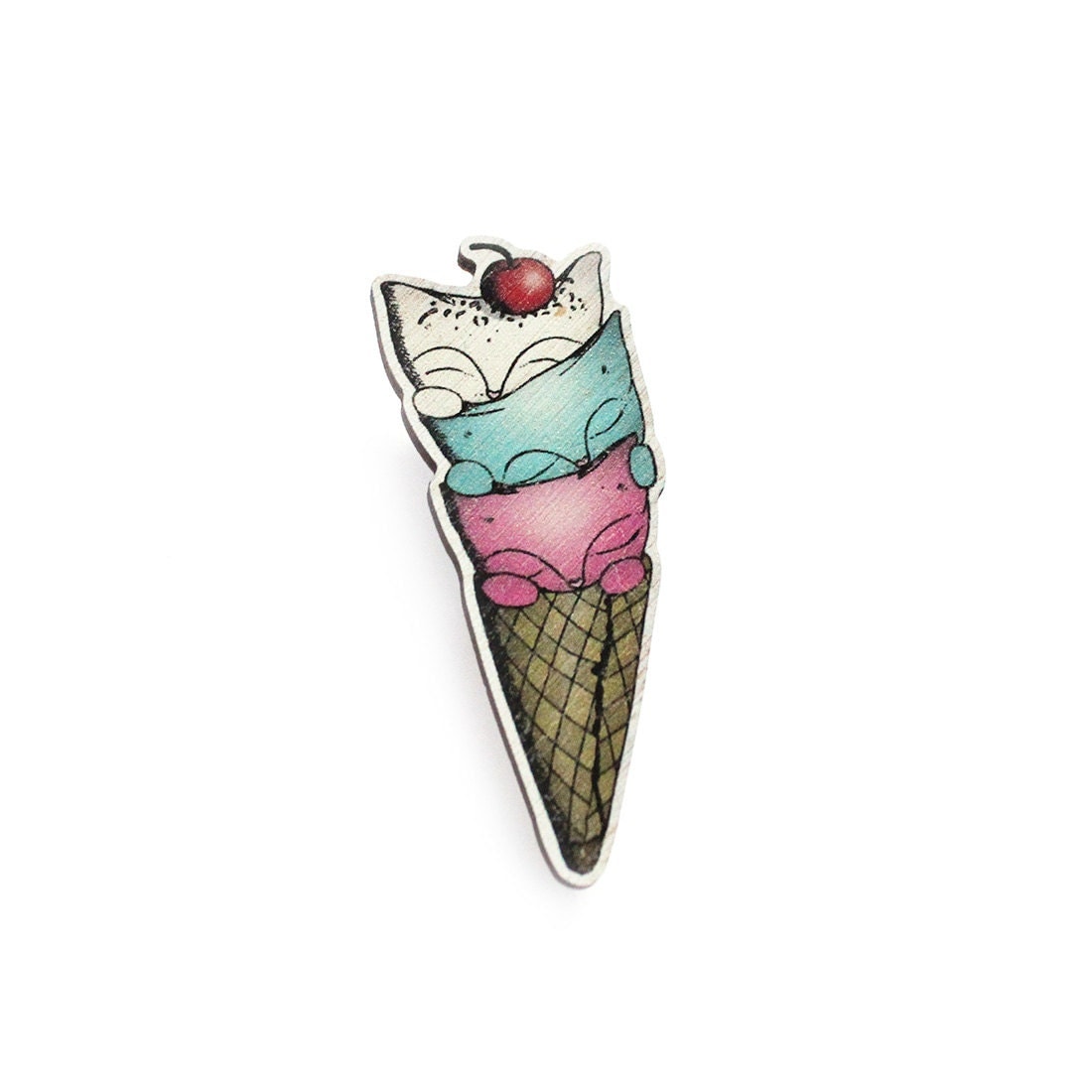 If you're a crazy cat lady, look no further for your perfect accessories! Ella is an illustrator and designer based in the UK who makes the most delightful brooches featuring all sorts of kitties – ice cream kitties, knitting kitties, cupcake kitties – all with the most gorgeous expressions on their faces! It's no surprise that Ella likes to tell stories through her work, and her designs are inspired by fairytales and travel with a vintage vibe. Ella also makes cushions, mugs, cards, pocket mirrors, and more – basically you can fill your life with her designs, which I don't think would be a bad thing at all!
8. Holly Coral
Holly lives in the UK and makes cute and quirky hand drawn brooches! Her designs are colourful and very sweet, and always come on an adorable hand-drawn tag with fun names on them (I love puns, so "You Giraffe Me Crazy" is a personal favourite). Also look out for her range of patches coming soon!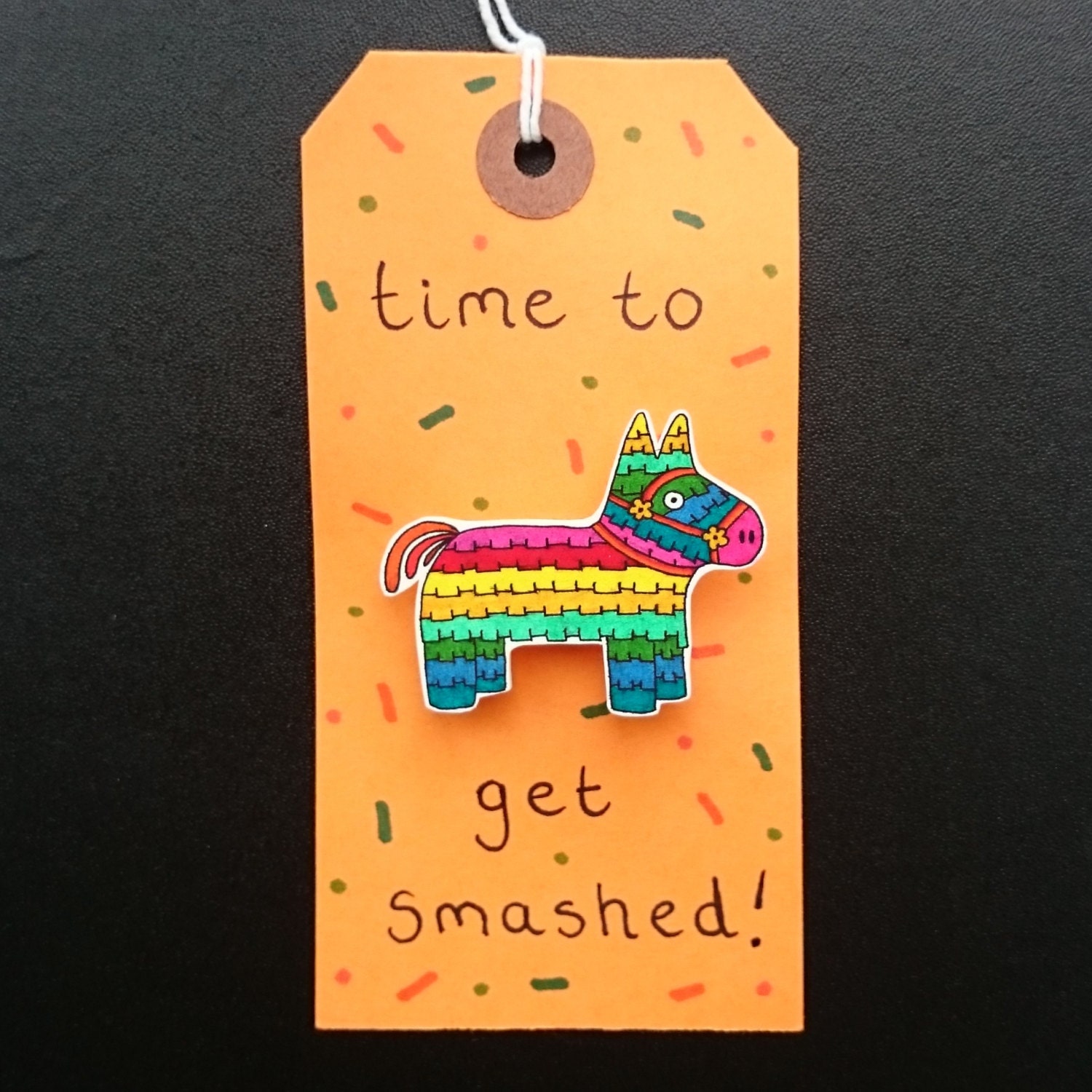 9. Baccurelli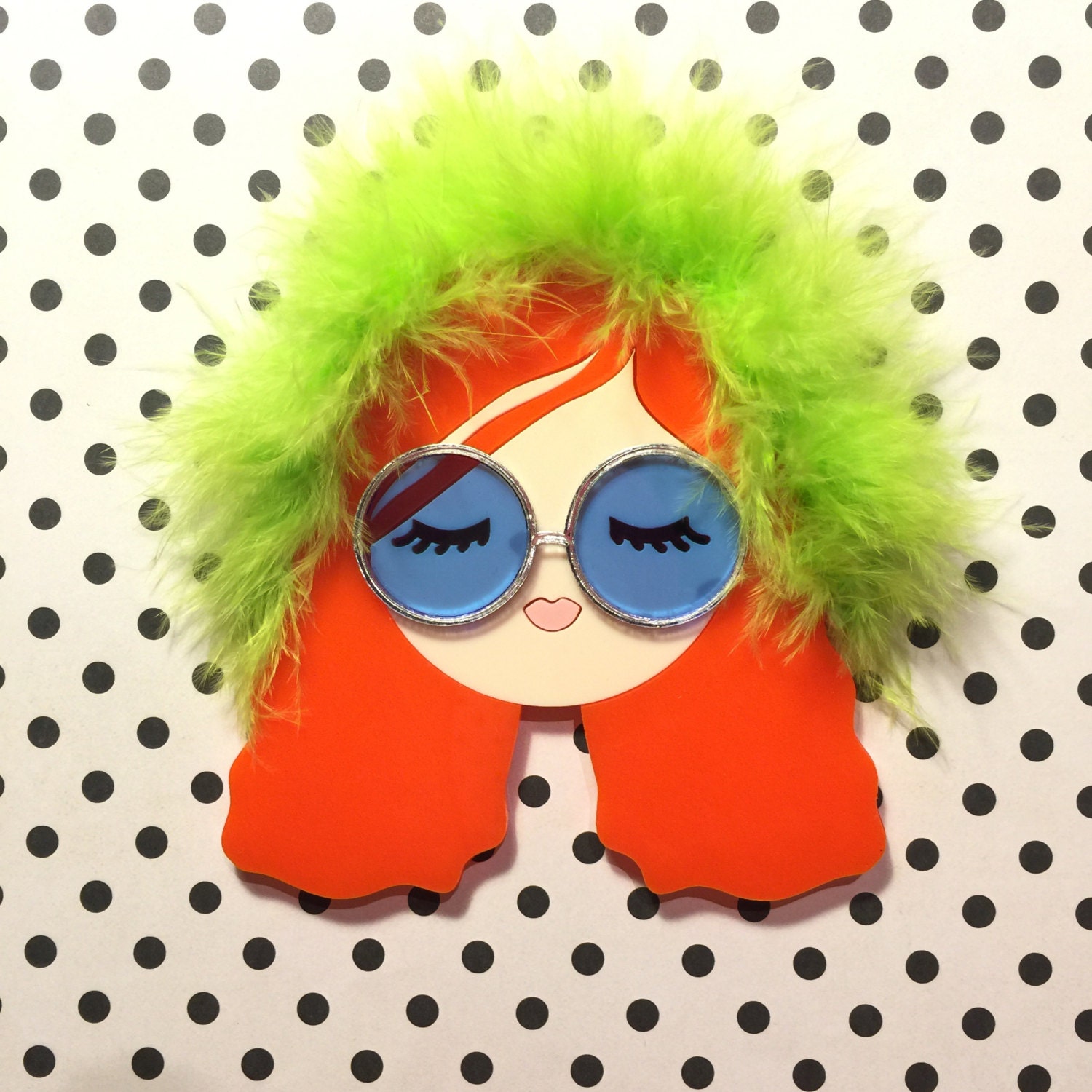 Meli is based in LA and makes a range of lucite brooches (and necklaces). These designs are real statement pieces, with many of her brooches measuring 3-4 inches square (though there are mini designs as well). Baccurelli has a growing Valley of the Dolls collection, all of which come in brooch and necklace form and are inspired by a number of fabulous ladies (real and fictional) including Frida Kahlo, Wednesday Addams, Marilyn Monroe, and Rosie the Riveter. Check out Baccurelli's Etsy store for Meli's range of wonderful designs!
10. FTLOV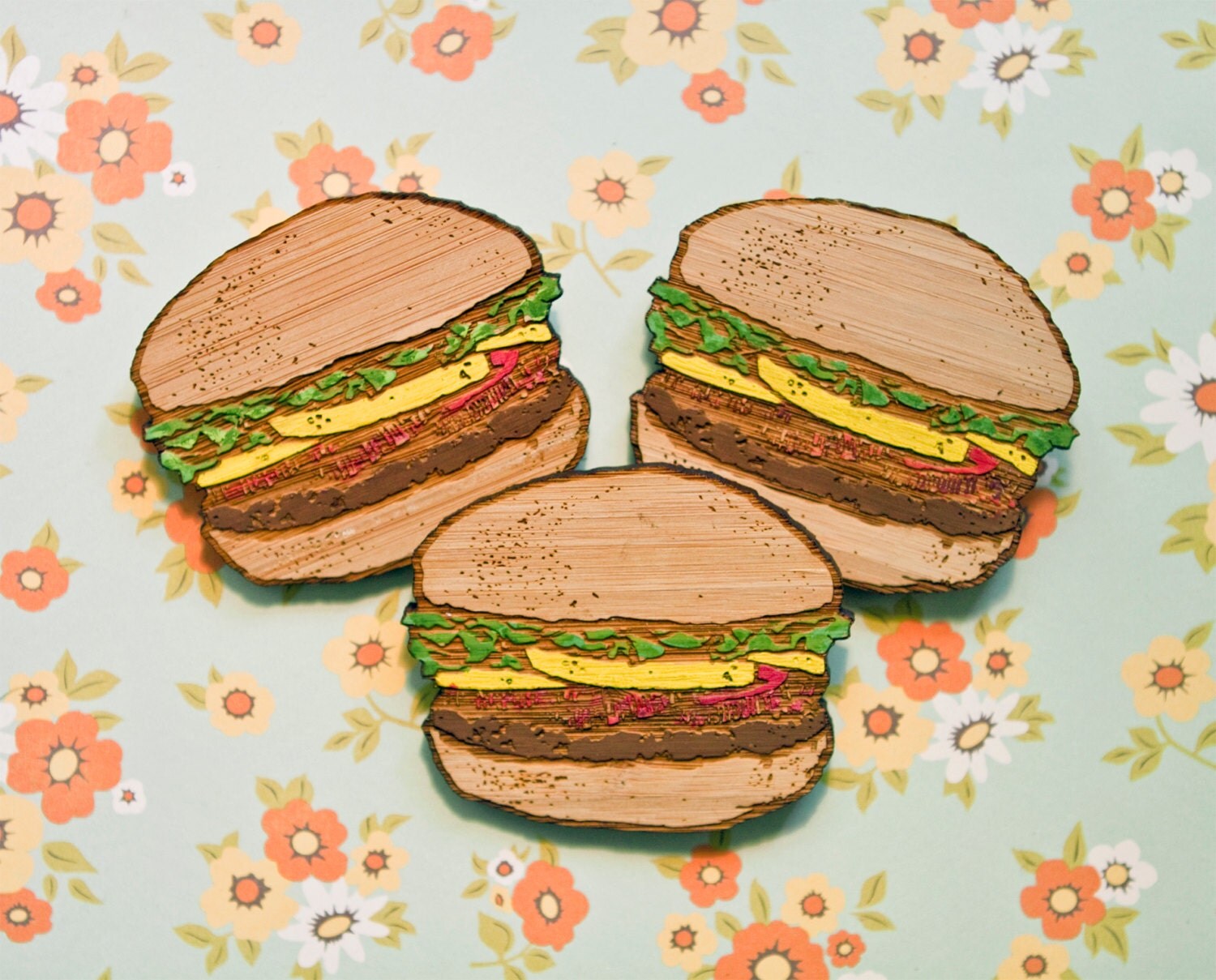 For the Love of Vintage is small jewellery business run by Jessica from Australia. FTLOV specialises in making beautiful jewellery from all recycled materials with a vintage twist. Many of Jessica's brooches are one-offs, such as the super cute study block and fruit domino brooches on offer in her Etsy store, and she also makes candy heart brooches from recycled bamboo (On Wednesdays We Wear Pink is my favourite) handpainted in a range of colours. They also do custom orders so you can get your favourite quote in a colourful candy heart – perfect!
11. Vintage
I have been trawling through antique stores and op shops for a number of years and I always get excited by a quirky vintage gem of a brooch. There is also a huge number of vintage brooches on Etsy, where you can type in [insert type of brooch here] and you will be overwhelmed with the selection. I am lucky enough to have been given some of my grandmother's jewellery as well over the years, which includes a number of wonderful statement brooches. Have a hunt through your local op shops and see what you can find!
These are just a few of the places out there where you can find great brooches, but there are plenty more so expect a 'Part Two' sometime in the future!
And finally, here's a picture of how I store my brooches:
I got this mannequin from a theatre that was throwing it out a few years ago, and after having it sit naked for a while I realised it was the perfect place to pin all my brooches to! As you can see I have given her a sash to clip my hair bows and hair flowers to, and her hat is tipped at a rakish angle. She's getting quite over-accessorised though so I might have to get her a sister soon!
I hope you have enjoyed this post! If you have a favourite place to buy your brooches from (or a good way of storing them!) please let me know!
Miss Hero Holliday
xo